I read a piece in an Irish newspaper today about a baby girl in Gaza who has been born via emergency c-section after her parents had been killed in an air strike.  I've posted the article and the picture below.
A lot of you have contacted me regarding adoption from Gaza. Is it possible?  What a tricky question!  Yes, I think it can be done but it would be very difficult.  Adoption of children from the West Bank and Gaza must proceed through the Palestinian Authority District Court if the child to be adopted is Muslim or through from the ecclesiastical court, if the child is Christian.  The Palestinian Authority has been reticent to grant custody of children to parents who do not reside in Palestine but there is no statutory bar.  All adoptions must occur along religious lines- meaning that only Muslims may adopt a Muslim child. Only Christians may adopt a Christian child.  Prospective adoptive parents must obtain a home study from an accredited home study provider. After they locate a child in need of a family, they must prove to the US immigration authorities that the child in question is an orphan due to the death, disappearance or desertion of a biological parent.  Keep in mind that it can be very difficult to obtain a passport for child from Gaza.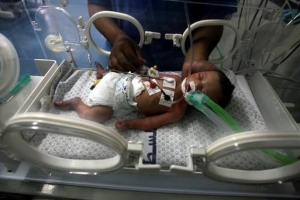 Gaza's youngest orphan: Baby girl born by caesarean after mother is killed in air strike
Mother and father killed in air strike – Doctor
A Palestinian doctor treats 3-day-old Shaymaa al-Sheikh Ali at Nasser Hospital in Khan Younis, in the northern Gaza Strip, Sunday, July 27, 2014. The baby's mother, 24-year-old Shaymaa Hussein al-Sheikh Ali, who was killed by shrapnel from an airstrike on her family home, posthumously gave birth by Caesarean section at Al Aqsa hospital on Thursday. Doctors said they expect the infant to remain hospitalized for about 5 weeks. The baby's father, Ibrahim Sheikh Ali, was wounded along with several others in the strike. (AP Photo/Eyad Baba)
A premature baby girl whose mother died in an air strike is fighting for her life after being
Shaymaa Hussein al Sheikh Ali was heavily pregnant when an Israeli air strike hit the roof of her family home in Deir al-Balah on Thursday.
Surgeons delivered her baby daughter, who has also been named Shaymaa, at a Gaza hospital on Monday after doctors found the infant still had a heartbeat.
A doctor at the hospital where the infant is being treated said: "The mother and father were killed. The pregnant mother was brought here and when we checked the foetus it was alive, so the doctors did fast surgery and brought the baby out breathing.
"She is alive, so the doctors did fast surgery and brought the baby out breathing. She is in a serious condition. She is alive using the machines and we hope she will be better so she can be moved to her grandmother."
Her grandmother was quoted by Sky News as saying two floors inside the family home collapsed after the air strike hit.
The infant is currently in a stable condition after suffering a shortage of oxygen. She is expected to remain in hospital for the next five weeks.
Overnight, the conflict between Israel and Gaza escalated with the heaviest night of strikes during three weeks of fighting, after the Israeli Prime Minister warned of a "prolonged" military campaign that will continue until it is confident Hamas' network of tunnels have been destroyed.
– See more at: http://www.independent.ie/world-news/middle-east/gazas-youngest-orphan-baby-girl-born-by-caesarean-after-mother-is-killed-in-air-strike-30468067.html#sthash.rea6inFB.dpuf